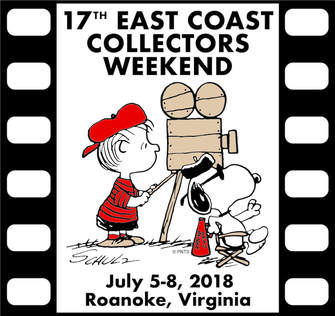 It's time to raise the curtain!!
Announcing registration for ECC 2018.
17th East Coast Collectors Weekend
Lights, Camera, Snoopy!!
July 5th thru 8th, 2018
Roanoke, VA


---
2/19/18
Greetings Peanuts Fans!!
Que the lights and quiet on the set!! East Coast Collectors are proud to invite you to a V.I.P event! This Very Important Peanuts event is going to be the summer blockbuster you will want to attend! We are proud to announce our 17th ECC weekend and invite you to be the star you always thought you could be and walk the red carpet with us. It is time to say Lights, Camera, Snoopy!!
East Coast Collectors will be bringing the glitz and glamour of Hollywood as we return to the aptly nicknamed Star City, Roanoke, Virginia. This is a place we visited once before in 2012 because it had a lot to offer. Roanoke is easily accessible by air, auto and train. The hotel is located just a couple of miles off Interstate 81, 5 minutes from the Roanoke Blacksburg Regional Airport and 12 minutes from the Amtrak station. The hotel will gladly provide free shuttle service for both locations throughout the day and evening. The region has an abundance of great activities. A great scenic drive is just around the corner on the Blue Ridge Parkway. The city is home to numerous museums including art, transportation and even pinball machines. You will find there are also multiple historic sites to visit. You can visit Thomas Jefferson's plantation Poplar Forest, the historic downtown district or the National D-day Memorial in which Charles Schulz was instrumental in the early planning and construction.
Our host hotel will once again be the Holiday Inn Roanoke Valley View. We had a lot of great feedback from attendees about this hotel and they have just finished making improvements last fall. Attendees can enjoy a rate of $99 + tax per night which is good from July 4th through July 8th. To make reservations you can call the hotel directly at (540) 362-4500 and ask for the "East Coast Snoopy Block". You can also reserve online through this link "
East Coast Snoopy"
, on the Holiday Inn Roanoke Valley View website using the group code "ECS" or follow the link button below. Rooms do tend to fill up fast so don't wait too long.
We will again have a fun "pre-event" Thursday outing for those who would like to start the festivities early. To get into that Hollywood feeling we will be visiting the historic Grandin Theater for an evening reception with fabulous hors d'oeuvres and a private screening of the classic "A Boy Named Charlie Brown" on the big screen. The Grandin Theater opened in the spring of 1932 and has existed as a movie palace and live theater for over 85 years. This will be a private screening in one of their second floor theaters, and attendance will be limited to the first 75 attendees to register. The theater is considered historic so it has been grandfathered in under ADA regulations.
An elevator will not be available to reach the second floor, so please take this into consideration.
A bus will be made available for the short 15 minute trip from the hotel to the historic Grandin downtown district. Space is limited on the bus and will be filled on a first come first serve basis on receipt of registration. Don't miss your chance to see a beloved movie with your fellow Peanuts collectors how it is was originally meant to be seen, on the big screen. Remember space is limited so register early for this great night.
All of the favorite activities people have come to know and love will be taking place over the weekend. We will be bringing back the ever popular SPIKE bingo (where you can win some cool Peanuts prizes) and the raffle, both benefiting CCI. The Scavenger Hunt and other fun contests will be returning and don't forget the door prizes either. There will also be some great items during our silent auction on Friday and our voice auction on Saturday. If you haven't been to one of our voice auctions you are missing an incredible time. (We have had a fuzzy toilet seat cover go for hundreds of dollars!!) All of this plus the market and room sales where you can find those items you didn't realize you can't live without.
For a schedule of events please press the Event Information button for more details. For all registration information please download a copy of the 2018 registration forms using the Registration Form button. Hotel Registrations can be made by following the link in the Hotel Reservations button. Please keep in mind the registration deadline is May 27, 2018.
We hope to see you there!!
Beagle Regards
​Chuck, Susan, Carol and Brian
The ECC Committee ​
---
Greetings everyone.

Things have been progressing in the background even though it seems we have been quiet for a while. Now that spring has started to take hold we are pleased to say we will be having some announcements.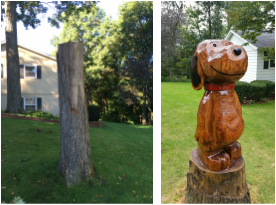 The Snoopy carving that was highlighted in one of our Spotlight articles has finally been finished. After letting the wood dry out for the year, Zoli the chainsaw artist was able to come back and give Snoopy his finishing touches. He was able to give Snoopy a wonderful stain to bring out the color, give Snoopy a nice red collar and make sure all of his spots were in the right place. We think it is a masterpiece. Follow the link on the button below to revisit the transformation from tree to artwork and see the rest of the final pictures.

---
Don't forget about our feature spotlight articles. If you haven't read them they are worth the time. "Fond memories of Peanut: past, present and future" by Alan Ferrigan is a wonderful piece. In the article he tells us how Peanuts has shaped his life and of his love of the artwork of Tom Everhart. You can also still find our previous articles. Please follow the links and enjoy.
Beagle Regards
Chuck, Susan, Carol and Brian
The ECC Committee
---
What is ECC?
Formed in 1994 as a way for fans of the Peanuts comic strip to stay in touch. East Coast Collectors (ECC) hosts bi-annual events to benefit Canine Companions for Independence. ECC is an avenue for collectors of the Peanuts comic strip and its memorabilia to share information related to Peanuts. It is not sanctioned by or connected to Peanuts Worldwide, Creative Associates, or the Schulz family.