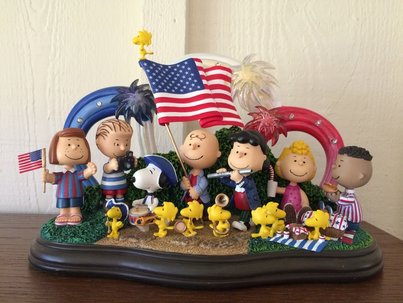 ECC salutes all of those who have given their lives for this country this Memorial Day.

We want to wish our best to the love ones who have made the ultimate sacrifice for the good of our country and all of its citizens. Thank you. You are all in our thoughts.
---
---
5/21/17
​
Greetings Peanuts Lovers,
We have some disappointing news to share. Unfortunately, due to circumstances beyond our control, the planned Canine Companions for Independence event to be held June 9th & 10th will be rescheduled. The Peanuts Paint & Sip, auction and tour are officially cancelled for June. New dates for this fall will be announced by email within the next couple of weeks. We are looking at either September or October, and as soon as Canine Companions confirms we will let everyone know the new dates. We were looking forward to seeing everyone and deeply regret this decision had to be made. We are hopeful the new fall dates will work for most of you.
If you have paid Canine Companions for the Peanuts Paint & Sip event on Friday, your payment can be applied to the new dates once announced. If you would prefer a refund, please email Debbie MacKenzie at
dmackenzie@cci.org
with your refund request. If you have lodging reserved at the hotel on Long Island, please call to cancel those as soon as possible, so you will not be charged. We apologize for any inconvenience this change may have caused you, and hope you will be joining us this fall for a fun weekend to support CCI.
Beagle Regards,
The ECC Committee
Chuck, Susan, Brian & Carol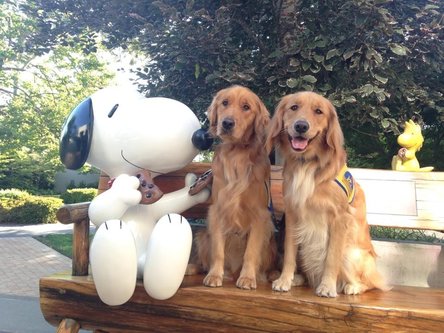 3/25/17
A very special announcement from ECC and Canine Companions for Independence.

East Coast Collectors (ECC) have been long time supporters of Canine Companions for Independence. Over the years, the ECC events have raised over $280,000 for this wonderful cause. While the next ECC event will not be until 2018, we wanted to share with you a Canine Companions event that will be taking place later this year that may interest you.

We were recently contacted by Debbie McKenzie, a Canine Companions for Independence Senior Director of Development, and told that they received the donation of the Peanuts memorabilia collection of a long time collector and frequent ECC attendee. This individual has requested the collection be auctioned with proceeds going to Canine Companions for Independence.

Debbie and her team are happy to announce that the auction of this collection will take place on June, 10, 2017 at the Canine Companions Northeast Training Center in Medford, NY. In addition to the auction, tours of the Medford complex, team demonstrations, and a Peanuts Paint and Sip event for charity will be part of the weekend's events.

For all the details please refer to the FAQ sheet below and then use the link to register. ​
---
This is going to be a great way for all our ECC attendees to see how your generous donations have impacted the lives of many. We hope to see you there. The entire ECC committee is planning on being there and is looking forward to a wonderful time filled with paint, Peanuts and puppies.

Beagle Regards
Chuck, Susan, Carol and Brian
The ECC Committee
---
Greetings everyone.


Things have been progressing in the background even though it seems we have been quiet for a while. Now that spring has started to take hold we are pleased to say we will be having some announcements. Check back here through the month on March and put a pin on your calendar for June 9th and 10th. In the meantime...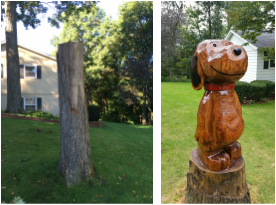 The Snoopy carving that was highlighted in one of our Spotlight articles has finally been finished. After letting the wood dry out for the year, Zoli the chainsaw artist was able to come back and give Snoopy his finishing touches. He was able to give Snoopy a wonderful stain to bring out the color, give Snoopy a nice red collar and make sure all of his spots were in the right place. We think it is a masterpiece. Follow the link on the button below to revisit the transformation from tree to artwork and see the rest of the final pictures.

---
Don't forget about our feature spotlight articles. If you haven't read them they are worth the time. "Fond memories of Peanut: past, present and future" by Alan Ferrigan is a wonderful piece. In the article he tells us how Peanuts has shaped his life and of his love of the artwork of Tom Everhart. You can also still find our previous articles. Please follow the links and enjoy.
Beagle Regards
Chuck, Susan, Carol and Brian
The ECC Committee

The results are in...

ECC 2016 EVENT at KING OF PRUSSIA: THE SURVEY...

Hard to believe, but its already been two months since our gathering in King of Prussia, Pa where memories were made, friendships strengthened, and over $28,000 raised for Canine Companions for Independence. The online survey results are back and will help determine the future direction of ECC.

The committee was pleased to receive survey participation from 108 attendees and overall the comments were extremely positive with regard to this year's event. 86% of the people who responded said this was not their first event, meaning that the majority of our attendees are our loyal base of collectors who have been supporting ECC for a long time. In fact, many noted that they had only missed a few events in our 16 event history. Given that our existing collector base is so loyal, what can we do to attract more new attendees? Growing ECC should be in our mission statement.

When the survey asked which event was your favorite, the bulk of the responses stated that the Voice Auction was tops, followed by the Saturday collector's marketplace, "Spike"and room sales. When asked if any events should be eliminated, most responses were a firm "NO", and comments mostly ran along the lines of not having the auction run so late & more time for room sales.

The hotel got very high marks on the survey with responses praising the friendly staff and easily accessible location. The only negatives on the hotel seemed to relate to the elevators being room key activated and no side door to the parking lot from lobby. A secure hotel!!!

When asked which past ECC event locations were favorite, the top 3 were Richmond, Lancaster & Scranton. The favorite past event was our 2014 outing to Kings Dominion in Richmond. When asked how far you would travel to attend an ECC event, 39% of responses said 5+ hours, 36% said 3 to 5 hours and only 5% said an hour or less. Affordability and dates were the most important factors in deciding whether to attend an ECC event.

The question that was answered overwhelmingly the same was which month you wanted to see an ECC event held. The winner was August by a landslide, followed by July & September which were tied.

We gave four potential combinations of cities & Thursday pre event to be considered for our 2018 ECC event and the top vote getter was Lancaster and the National Christmas Museum at. Coming in second was returning to Richmond & Kings Dominion. In third place was Charlotte and Carowinds Park with Camp Snoopy, and bringing up the rear was Cleveland and the Rock & Roll Hall of Fame. Interestingly, Lancaster seems to have been mentioned more than any other location in various comments throughout the survey.

When the survey allowed you to write in your comments, the responses indicated your approval of having Judy Sladky as a guest again this year. Several people said they really enjoyed the photo opp in the foyer that was event themed. The committee was complimented on being super enthusiastic this year and several new volunteers remarked how gratifying they found volunteering for the first time. Our new auctioneer Alan was complimented by most, however one person was offended that a Canadian would make jokes about our political candidates. Is there anyone who doesn't joke about our candidates??? LOL

All in all, a GREAT ECC event this year, a good survey response that will help the committee steer future events, for this we are most grateful. Thanks to all who attended, volunteered, donated or in any way supported ECC 2016, planning has begun for the next exciting event, stay tuned......


Beagle Regards
Chuck, Susan, Carol and Brian
The ECC Committee

​


---
What is ECC?
Formed in 1994 as a way for fans of the Peanuts comic strip to stay in touch. East Coast Collectors (ECC) hosts bi-annual events to benefit Canine Companions for Independence. ECC is an avenue for collectors of the Peanuts comic strip and its memorabilia to share information related to Peanuts. It is not sanctioned by or connected to Peanuts Worldwide, Creative Associates, or the Schulz family.