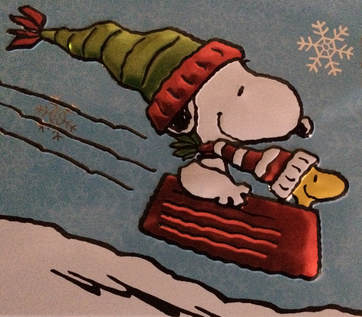 Happy Holidays from ECC!!
The planning committee want to wish everyone a Merry Christmas and Happy New Year. May you all have joy, peace and especially some fun.

---
12/24/17
Greetings Peanuts Fans!!

It has been a busy holiday season. There was a large amount to products out in the stores, including CVS, Walgreens, Pottery Barn Kids and many others. All the items went fast so we hope you were able to get the treasures you wanted. Peanuts ICE returned to Nashville and is a holiday site to see for those lucky enough to visit it.

Now for the best news of all!!
​The 17th East Coast Collectors Weekend now has a date and location!! We are proud to announce we will once again be visiting Roanoke, VA on July 6th-9th. We had a wonderful time when we visited this city in 2012 and plan to again. Release of the hotel registration information and event registration for the event will begin soon after the new year. We hope you will be able to save the date and join us for what is going to be a great event!
Merry Christmas and Happy New Year to all!
Beagle Regards
​Chuck, Susan, Carol and Brian
The ECC Committee ​
---
Greetings everyone.

Things have been progressing in the background even though it seems we have been quiet for a while. Now that spring has started to take hold we are pleased to say we will be having some announcements.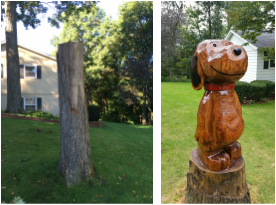 The Snoopy carving that was highlighted in one of our Spotlight articles has finally been finished. After letting the wood dry out for the year, Zoli the chainsaw artist was able to come back and give Snoopy his finishing touches. He was able to give Snoopy a wonderful stain to bring out the color, give Snoopy a nice red collar and make sure all of his spots were in the right place. We think it is a masterpiece. Follow the link on the button below to revisit the transformation from tree to artwork and see the rest of the final pictures.

---
Don't forget about our feature spotlight articles. If you haven't read them they are worth the time. "Fond memories of Peanut: past, present and future" by Alan Ferrigan is a wonderful piece. In the article he tells us how Peanuts has shaped his life and of his love of the artwork of Tom Everhart. You can also still find our previous articles. Please follow the links and enjoy.
Beagle Regards
Chuck, Susan, Carol and Brian
The ECC Committee
---
What is ECC?
Formed in 1994 as a way for fans of the Peanuts comic strip to stay in touch. East Coast Collectors (ECC) hosts bi-annual events to benefit Canine Companions for Independence. ECC is an avenue for collectors of the Peanuts comic strip and its memorabilia to share information related to Peanuts. It is not sanctioned by or connected to Peanuts Worldwide, Creative Associates, or the Schulz family.